NYC EXPOSED
Part of the "Great Cities Exposed"
Online Photo Exhibit Series

ARTISTIC PHOTOGRAPHY EXHIBIT
POWERED BY OUR READERS!This is where it all started!

Check-out this first stop on the "Great Cities Exposed" tour; NYC...

the greatest city on earth!



Whether you live in the Big Apple, visited as a New York City tourist or have never been but always wanted to...NYC is both a romantic idea and an in-your-face reality. See NYC in a different light, as our readers - both amateur and professional photographers - contributed spectacular creative images of the city that never sleeps.

When you're done enjoying this exhibit, be sure to check-out

San Francisco EXPOSED

...our next photogenic city in the Great Cities Exposed series!

LINKS to the NYC Exposed Galleries: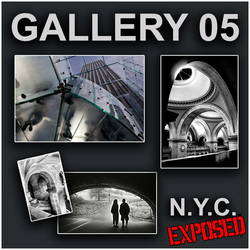 ---


Message to our Visitors:

A HUGE "Thank You" goes out to the many photographers who submitted photographs for this exhibit!

We really appreciate the effort and creativity that everyone showed
and, although we would love to have included all of the hundreds of photos we received,
we had to be selective due to space and time constraints.
(If you submitted images that were ultimately not selected to be part of this
exhibit, please watch for our next photo challenge or exhibit and feel free to submit again!)

This particular exhibit is now closed to new submissions, but there's a lot to see here!
We have just prepared and published our first three galleries
of this NYC Exposed exhibit and are in the process of completing the rest.


---

NYC EXPOSED - THE VISION:
Our vision was to create a new online gallery that is as much about personal perspective as it is about New York City.
In January 2011, we announced a Call for Submissions and, subsequently, set about curating a body of work from professional and amateur photographers that captured a variety of visual landscapes that best embody the NYC spirit.
The exhibit is now a work in progress. While the deadline for reader submissions has come and gone, we'll continue to be busy completing the exhibit itself over the next few weeks.

Each of the photos that will become part of this exhibit will depict scenes that may appear vastly different from one another when viewed independently, but they will also carry a common thread of the essence that is New York,
when appreciated together as a whole body of work.

For a visitor, it could be an interesting take on Lady Liberty or of Times Square. But for a New Yorker, the content might have more to do with a favorite part of Central Park or a gritty but interesting looking alley. No matter what the subject matter and varied perspectives, they're all valid and seeing them all together in one place will be an awesome journey showing
how the City means different things to different people.

---
NYC EXPOSED
UPDATE...

The "Call for Submissions" to this exhibit is now closed.

Huge thanks go out to the hundreds of photographers who made the effort to submit their best NYC photos for this exhibit!

Over the next few weeks, we will be completing the process of posting the pictures that were chosen to be part of this project and finalizing the exhibit.

Our Submissions Review Team has really enjoyed sifting-through the images. There were so many very interesting and expressive pictures of New York City! The photographic quality varied a great deal, as did the mood and message of the individual photos, but we managed to put together what we feel is a highly vibrant and diverse photographic exhibit that celebrates the NYC spirit as well as, of course, excellent camera work!

Many of the pictures had a depth of authenticity and unique creative expression that was beyond our expectations.


SELECTED PHOTOGRAPHERS ARE RECOGNIZED:
As much as possible, we have posted links to the successful photographers' own websites, so we would encourage all of our readers to take a moment to visit their sites. As well, all of the published photographers appearing in this exhibit received a personalized Limited Run 8 x 10 full color pdf poster suitable for framing. The poster (thumbnail shown below) identified the selected photographer as being part of this NYC Exposed project.
---
THIS EXHIBIT IS NOW CLOSED TO SUBMISSIONS.

WE WILL BE LAUNCHING NEW PHOTO GALLERIES AND PHOTOGRAPHY EXHIBITS IN THE COMING MONTHS.
IF YOU ARE INTERESTED IN BEING PART OF ONE OF OUR NEW EXHIBITS,
VISIT FREEPHOTOCOURSE.COM REGULARLY
FOR UPDATED INFORMATION ON UPCOMING CHALLENGES AND PHOTO EXHIBITS.

---
Please read our
Content Download and Use Agreement
if you have any questions regarding content rights for images appearing in this gallery. Please respect the rights of the photographers whose work is featured in this online exhibit. Photos in this exhibit are the property of the named photographers. Copying, storing, transmitting or otherwise using any of these images without the express permission of the named photographer is prohibited.
© 2011,

FreePhotoCourse.com.

All rights reserved. Reproduction, storage, copying, publishing, manipulation, digitizing or selling of any of the text or photos on this website is strictly prohibited. Under no circumstances shall any part of the content on this website be plagiarized or referenced as the work of an author or photographer. Re-selling of any of the content on this site is strictly prohibited.