Help spread the word about this awesome photography site!




January 2015

Photography by
Terry Rogers
Barryville, New York


T

erry Rogers

was out for a drive when he spotted this deer off the side of the road. He did what any photography enthusiast would do! He took his handy Canon T3i, attached a long zoom lens (300mm maximum focal length) and then made some magic!

We love the clarity, true colors and short depth of field that this image offers. The young deer appears to be posing for Barry and its expression is perfect. Excellent use of exposure, focus and framing.



Terry tells us that he is an amateur photographer and we must throw some kudo's his way for taking such an excellent wildlife photo!


February 2015

Photography by
Andile Mseleku
Durban, South Africa


| | |
| --- | --- |
| Andile's awesome macro image above captures the tiny 'leaves' comprising a larger growth of moss on what appears to be a vertical rock face. Realistic color, sharp focus and interesting composition make this a stand-out picture! | Andile's sense of artistic composition shines through in this impressive work shown above. The braided cable is a perfect subject to demonstrate a sharp focal point surrounded by purposeful blur in both the fore and back grounds. The grooves in the cable become bigger than life, while the blur helps to accentuate that same focal point. The bokeh in the background is blurred just enough to avoid a distracting and clutter-some mistake, but just recognizable enough to provide meaningful context. |



Both of Andile's photos above show a good grasp of the aesthetic, while also demonstrating the surprising capability of a point-and-shoot camera. While smartphone camera use seems to be gaining in popularity amongst those who are not true photography enthusiasts, Andile's photos remind us that a four year old point-and-shoot camera can far outshine even the most popular and expensive smartphone and tablet cameras.

Congratulations Andile on your forays into the wonderful world of artistic photography and keep up the wonderful work!




March 2015


Photography by
Nikhil Vashisht

New Delhi, India
W
hile FreePhotoCourse.com's Submissions Review Team considered several landscape, nature, wildlife and still life pictures that were submitted during March, 2015, one image stood out because of its powerful message. Nikhil Vashisht of New Delhi, India, captured this intriguing image of this boy in a local Kapas Hera amusement park. One of the most interesting aspects of this image is how we see a point of view enhanced by the boy's confident stance.
Nikhil wrote in his submission that that he admired the way that the picture represents how the boy, "Dreams a lot and want(s) to fulfill all his needs and desires, and also do some work for the welfare of the society."
Our Team's Take on the picture
:
"Beyond the emotional significance of the picture's message, we were also impressed by the way that the boy's arms visually connect with the arches above him in the background. It's as if he began with his arms pressed together in a straight line above his head, then fanned them out as the arch grew and bloomed above him. That, combined with the interesting tile patterns on the pool's floor, make this a visually arresting image! Also note, from a compositional aspect, how the repetitive pattern of the wavy lines on the floor echoes the rhythm of the concentric crescents in the arches above. The boy's centered composition may break the "Rule of Thirds", but in this particular case, the rule is broken in a most attractive and interesting way! Wow! Congratulations Nikhil for allowing the world to see your inspiring photograph!" -FreePhotoCourse.com's Submissions Review Team



May 2015

Photography by
Bob Sansom
Thomaston, Connecticut

B

ob Sansom composed this beautiful macro image of spring-flowering lilacs in his own backyard. We receive so many floral pictures throughout the year, so we generally tend to look toward a more varied palette of genres and subject matter.

However, Bob's work caught our eye and we chose it for a few very good reasons. First, his focus is dead-on, with the crystal clear open blooms and flower buds near the bottom center. Second, the focus drops-off gently, but deeply, revealing a pleasant background blur that yields to the main subject. Third, and most important, is that somehow, Bob managed to capture something more than just a bract of flowers. One can almost smell the sweet, heady perfume that only a lilac can produce.

Perhaps it's the simplicity; perhaps it's the gentle pastel colors? Regardless, the image has a message that is pure, honest and promising...just like the springtime season during which Bob created this artistic work!

Bob tells us that, for him, photography is a hobby. He likes to travel and, so, he hopes to get better at his hobby. We're confident based on his submission, that he will soon be capturing stunning images on his travels, if he isn't already doing so!



Thank you for your submission and for allowing FreePhotoCourse.com's readers to enjoy your bit of springtime...regardless the weather outside!
July 2015
Photography by
Vikas Vattikonda
India
Peacocks (and peahens for that matter) are a bit of a novelty for many people around the world, but they are as plentiful and common in many parts of India as squirrels are in North America. Whether or not you are a fan (sorry for the pun!!) of the peacock tail fan, you've got to admit that these majestic animals have the most amazing, iridescent colors. Vikas Vattikonda got this super close-up picture of a peacock's head that illustrates just how ornately decorated the fowl actually is.

Expand Vikas' picture by clicking on it and note the intricate detail in the tiny patchwork of features on the top of the bird's head! He also captured the row of mini peacock feathers adorning its head like an Aztec crown.



He used a shutter speed of 1/500 of a second, which was a smart choice, given the animal's propensity to bob and move quickly. Nice work by one of our many readers and fans in India! Congratulations Vikas and keep shooting!
August 2015
Photography by
Jarrad Swansborough
Venus Bay, Australia
J
arrad Swansborough's photography was featured previously in our October,
2013 Contributors' Gallery
. We chose to show his work again, now a few years later, with some absolutely stunning landscape work. Jarrad is an accomplished photographer who is creating these breathtaking images with a Nikon D3200 DSLR. While there are far more expensive cameras, Jarrad proves that the photographer's eye, technique and use of light are far more important than the equipment one is holding.
September 2015
Photography by
Subinoy Khisa
Cox's Bazar, Bangladesh
Subinoy Khisa photographed this stunning sunset picture just before 6:00 p.m. in March 2015, near his home in Bangladesh. The quality of the photo is challenged by the equipment (it was shot with a older generation cell phone camera with a considerably low resolution). However, we decided to select and publish Subinoy's submission for another reason. While FreePhotoCourse.com's Submissions Review Team was sifting through the September 2015 entries, they simply didn't see anything that jumped out. There were dozens of average pictures of average flowers, a few blurry pictures of street/urban scenes and yet other unremarkable pictures of unremarkable subjects.

We decided to feature Subinoy's slightly pixelated image to illustrate how the photographer's creative eye is far more important than the equipment used. Having said that, professional equipment is necessary when a photographer wishes to charge money for his or her work, or to have it published as formal content. But this image should remind all aspiring (and even many professional) photographers that the creative process is paramount. Without it, and without interesting subject matter and/or an interesting or attractive way to photograph it, the best camera gear in the world is merely a jumble of optics and electronics.

Thank you Subinoy for sharing this beautiful scene and your artistic composition with our readers.





December 2015
Photography by
Terry Rogers
Barryville, New York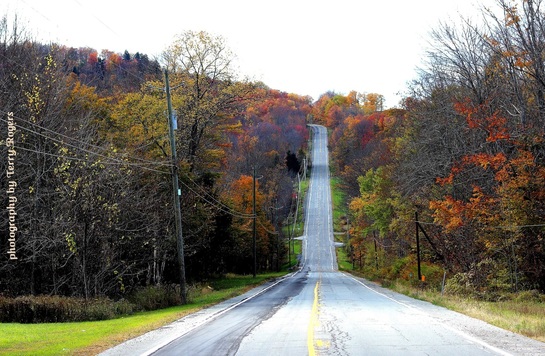 This 2015 Contributor's Gallery started with a January selection from Terry Rogers and we decided to close the year the same way!

Terry's autumn submission represents one of those idyllic, storybook scenes that people associate with the season. The painted appearance of the vibrant crimson, orange, yellow and green is punctuated by the open road, as it dips, rises and then bends slightly at the end of its path.

Perhaps there's something in beautiful autumn photos like Terry's that calls us to honor and respect the gently falling leaves, the splashes of color, the stillness of the sound and the crispness of the air. Maybe we like to get lost in photos like these because they help us to take pause in our busy, hectic lives.

Or, maybe, just maybe, we want to see ourselves driving along that lonely road, thinking about nothing but the beauty that unfolds.

---
Have a photo you want to show-off to the world?
Use our
Electronic Submission Form
Send us your "best of the best" and if it's good enough, we'll post it for the world to see!
If our Submissions Team decides to post your image here it means something special is going on with your photography. You have the pride of knowing that your photography is at a higher level. Best of all, you can show your posted work to friends and family - you can also put-up a link to this page up on your Facebook, Flickr or other sharing site!
Contributors with a photographic work that is accepted and posted here will receive a special certificate by e-mail.
In a way, it's a bit like winning a photo contest where your work can be seen by the world!
Currently accepting photo submissions for our regular monthly 2016 photo gallery.
(Submission Limit: Maximum 2 pictures per month)
© FreePhotoCourse.com.
All rights reserved. Reproduction, storage, copying, publishing, manipulation, digitizing or selling of any of the text or photos on this website is strictly prohibited. Under no circumstances shall any part of the content on this website be plagiarized or referenced as the work of an author or photographer. Re-selling of any of the content on this site is strictly prohibited.