Help spread the word about this awesome photography site!




Who can submit?

Photographers can reside anywhere internationally and may submit images that were photographed just about anywhere, as long as the images were legally captured by the submitting photographer. Photographers must be 18 years old or older at the time of submission for reasons of privacy. Submissions must be family-friendly. Amateur and professional photographers alike may submit. If we choose to feature work submitted by a pro, we will generally provide a link to that photographers' website upon request. Up to two pictures from one or two photographers will be selected and featured each month, from all of the submissions we review. Each photographer may submit up to 2 photos per month for consideration. We reserve the right to publish editorial content regarding any photo we choose to publish and to perform minor photo edits to best fit the web medium. Photographers retain copyright of their images.



July 2016
Photography by
Caryn Hayes

West Palm Beach, Florida
When Caryn Hayes visited Peggy's Cove in Nova Scotia on Canada's east coast, she was inspired to capture this quintessentially maritime scene. Wow - what a postcard-like image she created! Our Submissions Review Team was particularly impressed by the composition, with the cove/harbor opening up gently toward the bottom left. As if on cue, the tiny rowboat points outward, drawing the viewer's eye into the center of the frame and then to the structures on the left. As our eye begins to move in clockwise fashion, we pause along with equally distanced houses on the top right side of the landform. This picture is all about movement and engagement of the eye. The deep, but, not overdone colors just add to the 'eye candy'.

Caryn's second submission is from closer to her own home in West Palm Beach. Look at the warm sunset color with orange, peach and mauve! So inviting and gentle! Again, a boat appears to be heading out. Our eye wanders from the fishing dock and follows the boat out to unknown territory. Thank you so much Caryn for sharing your postcard quality pictures with the world! Brava!!




June 2016
Photography by
Fariv Athem
Fariv Athem told us that he shot these gorgeous pictures of a Heidelberg, Germany sunset back in November and December of last year, but he just got around to getting them off his card. Happens to so many of us these days! In fact, we wonder just how many people leave their pictures on their cards forever, never seeing them on anything bigger than a tiny screen and soon after forgetting about them alltogether!! At any rate, Fariv mentioned that he used the FreePhotoCourse.com course material to learn how to shoot stunning sunsets and sunrises, and then he tried his hand at it until he perfected his technique. We say, "Well Done!!"

He used very long exposures, ranging from a few seconds to to a full 10 seconds (above right), with the lowest ISO and quite a narrow aperture. The low ISO reduced noise, while the narrow aperture increased clarity while reducing light. The combination of these two factors allowed for the long exposure that made the river appear like a sheet of glass. Quite obviously, Fariv required a tripod for these two images. His camera, a Canon EOS 550D, did a beautiful job of rendering fine detail and vibrant, yet, true colors.

Thanks for sharing Fariv!





May 2016
Photography by
Akhila Attiganal
Northampton, Northamptonshire, United Kingdom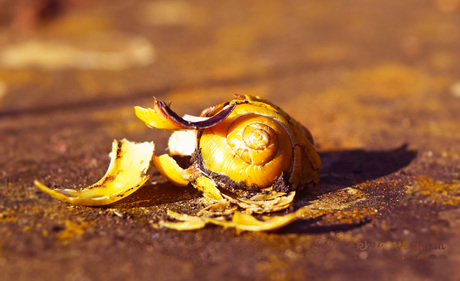 Most of our photo contributors include some background about their motivation, inspiration or reflection on the image or the experience associated with creating the image. However, only once in a while do we receive something so extraordinarily poetic that we decide to post the entire thing. Here is how Akhila describes this beautiful photograph:

"Life is a beautiful blend of sweetness and bitterness. The picture made me understand the importance of pace and determination.
The shell in the photo was broken when I saw it. I captured it as it was without disturbing. This shows that when speed and power is not in ones hand, only determination can help to reach the zenith. The snail's determination kept it alive and moving or else it would be crushed along with its shell. It also teaches that life can be cruel and snatch everything from you, but you need to have faith in ourselves."

Congratulations Akhila and thank you for sharing your photography and your poetic explanation with all of our international readers!





---

April 2016
Photography by
Carmel Lalo


Israel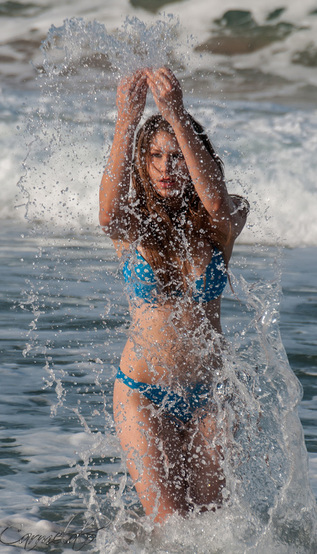 w
C
armel Lalo has been a FreePhotoCourse.com reader and gallery contributor since one of her photos was selected for our Contributors' Gallery back in
October 2011
. Her work was later featured again in
June 2012
. We are thrilled to show Carmel's photography expertise once again with her latest April 2016 beach action/portrait submission that she captured at Bezet Beach in North Israel, near the town of Galilee.
Her newest picture to the right aptly demonstrates how the use of a relatively fast shutter speed can effectively freeze motion. Our Submissions Review Team loved the way that the model's water play is frozen in time with the individual beads and blankets of water that seem to envelope her. The bright sunshine glistening against the water just enhances the clarity and transparency, making it seem clean and inviting.
The in-camera crop is also significant when it comes to critique of this image. While most people would have instinctively shown far more of the surrounding scene
(ie. more of the ocean in the background and perhaps shoreline in the foreground)
, Carmel chose to zoom tightly into the model. In photography, the instinctive decision is often not the best one, unless the photographer is well trained in the
principles and elements of composition
.
We also like short depth of field effect in the background that came from Carmel's wide f/5.6 aperture, along with a gentle zoom of 130mm. Both factors helped to blur the background, which puts more emphasis on the model and the spectacularly clear water droplets.
Carmel's photo gave us a great idea... We are launching a new challenge, separate from this usual Contributors' Gallery.
---
March 2016
Photography by
Lexi Ryan


Lansing, New York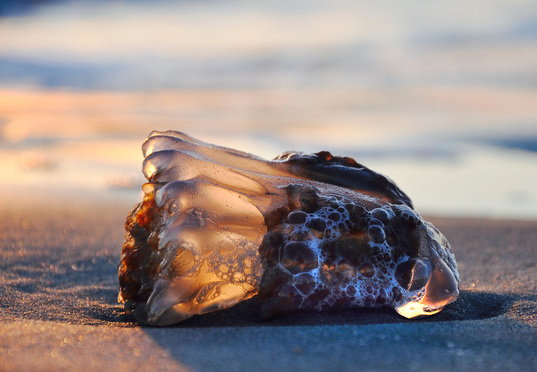 Bubbly, backlit dreamy and gorgeous; any of these adjectives would aptly describe this photo submission by Lexi Ryan of Lansing, N.Y. She shot this strange, yet, appealing jellyfish while on a beach in South Carolina.

While she zoomed-in a bit (105mm), the more important thing was that she crouched or knelt down to get almost even with the jellyfish's position. Had Lexi not done this and instead did what most people would have (to shoot it from above), the photo would not have been even half as interesting and attractive as it is. The perspective allowed the photo to capture the warm golden glow from an early morning or late day sun, as it illuminated the forward part of the jelly.

Finally, the combination of a fairly wide iris (aperture) along with the gentle zoom, produced significantly shallow (short) Depth of Field. This effect produces beautiful bokeh in the background, while emphasizing the subject through selective focus.

Lexi shot this with a Nikon D5000. This earlier generation camera (the current model is the D5500) did a superb job of capturing a sharp and perfectly exposed image with accurate color rendition, despite the fact that the D5000 had about 1/2 the resolution compared with the newest model (12.3 MegaPixels compared with 24.2 MegaPixels). It should serve as a strong reminder to all amateur photographers and photo enthusiasts that the person behind the camera always has a far greater influence on the quality, attractiveness and interest of the photo than does the number of megapixels or features the camera boasts. Great work Lexi and thank you for sharing!




---

February 2016

Photography by
Azam Husain
Lucknow, Uttar Pradesh, India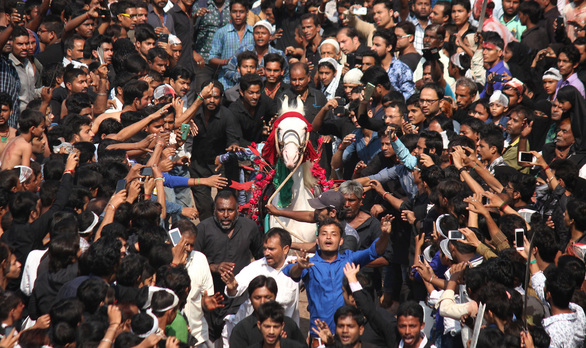 What simple phrase sums-up this photo? "High emotion, spectacular action!" When our staffers in FreePhotoCourse.com's Submissions Review Team opened Azam Husain's exciting picture, they were awestruck with how the image so effectively froze a moment in time that crosses cultural boundaries, allowing viewers from all walks of life to appreciate the intensity.

When he prepared to shoot this fast-paced action, Azam had the foresight to use a fast (short) shutter speed of 1/800 of a second, which effectively froze the movement. He also used a relatively wide aperture (f/5.4), which produced a short depth of field effect. That short depth of field slightly blurs people in the foreground (bottom) and background (top); this helps to move the eye toward the center of the photo, where the main area of interest is occurring. Without that shorter depth of field, the eye would be rather static due to the centeredness of the composition. This was a good choice!

Our team members also noted how one can almost hear sound and feel the energy of the moment. This is an important consideration. While so many of our site users and visitors submit photos of landscapes, still life, wildlife, architecture and such, this was a very different and interesting submission. It's not to say that we aren't thrilled each time we open and select a contributor's spectacular sunset or some other awesome scene, but this image was certainly different from most that we receive and that was a nice change of pace.

Finally, we must note that most professional news photographers and publishers would consider this a highly professional, publication-worthy image. In fact, it certainly looks like something that would support an article in an issue of the National Geographic. Kudos Azam!



---


January 2016
Photography by
Selena McMannus


San Diego, California
Selena McMannus was on a European vacation, touring wine country throughout France this past summer, when she came across this delightful picture of two horses feeding.

She managed to crop perfectly, getting both horses' heads in the shot, while leaving a bit more of the horse on the right. Because there are two subjects in the frame, centering both of them in symmetrical fashion would have been a bad idea; this is much better!

The contrast of the royal blue ropes, along with the matching feed bag against the rustic red trailer is postcard-like. The similarity in tone between the horses and the hay is also an important aspect of this photo.

Great picture and thanks for sharing Selena!









GET YOUR SUBMISSIONS IN SOON ...
YOU COULD END UP AS OUR FEATURED PHOTOGRAPHER FOR MAY 2016!


Have a photo you want to show-off to the world?
Use our
Electronic Submission Form
Send us your "best of the best" and if it's good enough, we'll post it for the world to see!
If our Submissions Team decides to post your image here it means something special is going on with your photography. You have the pride of knowing that your photography is at a higher level. Best of all, you can show your posted work to friends and family - you can also put-up a link to this page up on your Facebook, Flickr or other sharing site!
Contributors with a photographic work that is accepted and posted here will receive a special certificate by e-mail.
In a way, it's a bit like winning a photo contest where your work can be seen by the world!
Currently accepting photo submissions for our regular monthly 2016 photo gallery.
(Submission Limit: Maximum 2 pictures per month)
© FreePhotoCourse.com.
All rights reserved. Reproduction, storage, copying, publishing, manipulation, digitizing or selling of any of the text or photos on this website is strictly prohibited. Under no circumstances shall any part of the content on this website be plagiarized or referenced as the work of an author or photographer. Re-selling of any of the content on this site is strictly prohibited.