You can access all of our contest, challenge and exhibit galleries from this page.

From time-to-time, we host free photo contests (ie. no fee to enter).
If a contest is open to submissions at the present time, it will be listed below under "Current Open Contests".
Otherwise, you can use the links below to get to our other galleries and exhibits. Enjoy scrolling through the exemplary
photographic works, including contest winners, featured photos and honorable mentions,
as posted in the archived contests, challenges and exhibits listed below.






Current Open Challenges and Contests:
*OPEN FOR SUBMISSIONS UNTIL JUNE 30, 2016*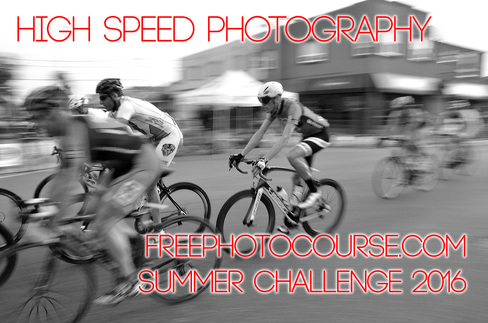 HIGH SPEED PHOTOGRAPHY:
SUMMER 2016 CHALLENGE
Send us your best pictures that freeze or creatively show motion of fast moving objects and you may be selected for publication in this new photography challenge! This is an opportunity to show off your fancy camera work and get the recognition you deserve.
Our Submissions Review Team will choose the best of the best and those who are featured will receive that recognition by having their work published on one of the web's foremost photography training sites, as well as a free high quality removable vinyl bumper sticker that reads, 'I was a Featured Photographer on FreePhotoCourse.com". Let your neighbors, friends, relatives and co-workers know that you are an accomplished photographer!
Submit ONE or TWO (maximum submission for this challenge is 2 photos per photographer) of your best MOTION or HIGH SPEED photos on our
SUBMISSION PAGE
. Please type in the phrase "HIGH SPEED CHALLENGE" so that we know your submission is separate from our regular Contributors' Gallery. Include your full name, where you reside, where you shot the image and any other information that you feel would be helpful in explaining either how you shot it or why you feel it is awesome! Please also include your mailing address (this is confidential - we protect your information and will never publish, sell or otherwise distribute your address) so that we can send your free recognition bumper sticker should your photo be selected.
GOOD LUCK AND START SHOOTING FAST MOVING THINGS!!
---
---


Completed Contests: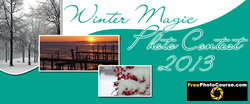 Winter Magic 2013 Photo Contest
The winners, runners-up and honorable mentions from our Winter photo contest are featured.
Check-out the beautiful portrayals of winter's magic and beauty!