LESSON 3 - DSLR Camera Techniques, Part 1
(Exposure Control - ISO - What it is and How to Use it)
Article by Stephen J. Kristof
© 2010, all rights reserved

In Lesson 2 (Camera Tutorials) you learned about the camera's shutter speeds, as well as its aperture and corresponding f-stops. Here is where we bring it all together so that these abstract concepts begin to make sense within the larger context of how to use shutter speeds and f-stops get a proper exposure.




Manual Exposure; Factors That Influence Exposure

Regardless of whether or not your digital camera has user-adjustable (manual) exposure controls, there are four factors that are always at play, affecting how bright or dark your images will appear.

AMOUNT OF LIGHT

ISO (variable light sensitivity of the CCD or CMOS chip)

SHUTTER SPEED

F-STOP (resulting in a specific aperture size)

*Note - when it comes to point-and-shoot cameras, the less expensive, fully automatic models are just as bound by these exposure variables, even though the user cannot manipulate the shutter speed, f-stop or ISO. Point-and-shoot cameras that have more features and all DSLR cameras with interchangeable lenses allow for full control over these factors.

In Lesson 2, you learned about shutter speeds and f-stops, in relation to their effect on exposure. To recap, remember that lower shutter speed numbers (ie. "4" is 1/4 of a second) are LONGER EXPOSURES that allow MORE cumulative light to expose your image. Higher shutter speed numbers are shorter fractions of a second (ie. "1000" means 1/1000 of a second) and the cumulative light exposure is less.

As well, you learned that f-stops are numbers that correspond with aperture sizes (hole in the lens). Low f-stop numbers relate to wide lens holes or apertures that allow MORE light in. High f-stop numbers relate to small apertures that allow LESS light in. Therefore, lowering the f-stop number makes the image brighter, while raising the f-stop number makes the image darker.








PHOTOGRAPHY'S INVERSE RELATIONSHIP:

Do you remember the concept of "Inverse Relationship" in Lesson 2.9? This is so important to all aspects of exposure control, that it bears repeating and...for you the learner...reinforcing! Remember the following. Generally speaking, when it comes to exposure control, high numbers equate to less light entering the camera, while low numbers result in more light entering the camera.

See below for a visual explanation: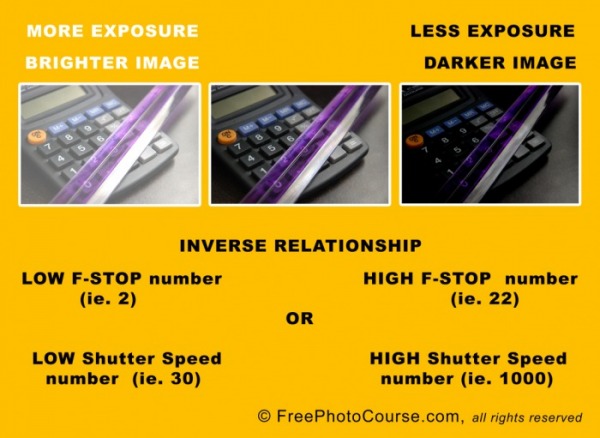 3.2 - What is "ISO"?

ISO is an acronym for the International Organization for Standardization. This is the same organization that oversees and certifies various manufacturing and business entities with respect to quality and operational standards. When it comes to photography, ISO refers to a globally accepted standard denoting specific degrees of light sensitivity according to a fixed set of numbers.

What the...? O.K., stated more plainly, it simply means that a camera's sensitivity to light can be adjusted up or down, resulting in brighter or darker images. This adjustable light sensitivity is referred to as ISO and, unlike the previously mentioned inverse relationship with shutter speeds and f-stops, lower ISO numbers mean LESS sensitivity to light and higher ISO numbers mean MORE sensitivity to light.

Most digital cameras either automatically adjust the ISO or allow the user to manipulate the ISO manually. On automatic mode, a camera will apply a "gain" or amplification factor to the light-sensitive CCD or CMOS chip when the shooting environment becomes dark, when the aperture closes and/or when the shutter speed gets faster. Each of these would reduce the light hitting the CCD or CMOS and, in turn, the camera will automatically amplify the light response of the chip in order to maintain a proper exposure.

In manual mode, a knowledgeable user may also increase the ISO as an educated decision when he or she will be shooting in lower light, using a smaller aperture (higher f-stop number) and/or using a faster shutter speed.

Prior to digital technology, photographic film used and continues to this day to use the same ISO numbers to define light sensitivity. Because these numbers are standardized, a 400 ISO film should have exactly the same sensitivity as a 400 ISO setting on a digital camera, as will other ISO values. Those photo enthusiasts with many decades of experience may remember a different acronym for the same concept. ASA (American Standards Association) preceded the ISO, but the set of values and what they denoted were the same as today's set of values.






A NOTE ON ISO AND CLARITY:
Refer to the animated helpers on the right.

Generally speaking, high ISO settings are necessary
when using high (fast)shutter speeds; this is because high shutter speeds
provide less aggregate light
due to a shorter amount of time that the CCD or CMOS is exposed to light.



We have set the speed of the animation shown above to play very slowly so that you may absorb and reflect on these ideas. Please wait until the last slide - "3600 ISO Disadvantages" plays. The animation will loop continuously, in case you have missed something.

However, there are disadvantages to using high ISO's.

Primarily, the higher the ISO, the less clear and more "noisy" your image will appear.

Low ISO's provide the sharpest images, but are inflexible and unsuitable
for low light or fast exposures.
Click here to begin the next course unit - DSLR Camera Techniques, Part 2 - Exposure Control and The Light Meter.











© FreePhotoCourse.com.
All rights reserved. Reproduction, storage, copying, publishing, manipulation, digitizing or selling of any of the text or photos on this website is strictly prohibited. Under no circumstances shall any part of the content on this website be plagiarized or referenced as the work of an author or photographer. Re-selling of any of the content on this site is strictly prohibited. The lessons on this website were provided free of charge for individual home users; if you paid for any of this you have been cheated. Please report any misuse, sale or plagiarism of this material here OR E-MAIL US AT: CONTACT@FREEPHOTOCOURSE.COM

ADDITIONAL LEGALS - Click HERE to read our Disclosure and Associate-Sponsor Terms and Conditions; Click HERE to read our Content Download and Use Agreement