LESSON 2 - Camera Tutorial, Part 4
(Long Exposure Photography)
Article by Stephen J. Kristof
© 2010, all rights reserved

At the end of Lesson 2, Part C, you were asked a question about why fully manual cameras have shutter speeds LOWER than 1/60 of a second. Here is the answer:


Slow Shutter Speeds
and Long Exposures



Here's the Answer You Were Waiting For...



Slower shutter speeds allow a photographer to SHOW MOTION rather than freezing it.
This can be useful when a slight smudge is desired within an otherwise clear and stationary scene in order to emphasis the movement.

Anything slower than 1/60 will likely show "movement" or motion blur. The resulting blur may be a moving subject or may even result from camera shake when photographing using slow shutter speeds without a tripod.

Slower shutter speeds allow a photographer to show the passage of time.
Shooting a babbling brook or waterfall at dusk or dawn, using very slow shutter speeds of 1-10 seconds allows for a surreal hazy appearance of the moving water. As well, shooting moving cars at night with very long exposures allows for a series of white and red streaks along the highway or street, showing the passage of time with multiple streaking head and tail lights.

Very slow shutter speeds allow a photographer to capture dim points of light.
A photographer would use very long exposures to register a beautiful night time image of a city's skyline. Although the city appears brightly lit with millions of lights, those lights are not bright enough at a distance to register an image on the camera's image-producing chip. With the shutter open for seconds rather than fractions of a second, the aggregate or cumulative collection of light for a longer period is brighter than it would be for a fraction of a second.

Multiple-second exposures allow us to capture lightning.
There's nothing more classic than a night time shot of a brilliant bolt of lightning; it's tiny branches reaching in every direction! Keeping the camera's shutter open for long periods of time allows the photographer to capture something that happens, without warning, in a fraction of a second.





Take a look at the image to the right. During the 1/3 of a second that the exposure took place, you see both parts of the scene, without the train (see how the palm trees appear ghost-like through the train) and then with the train. The shutter was pressed just before the train sped into the scene. Good planning and a measure of lucky timing!



Panning With Motion...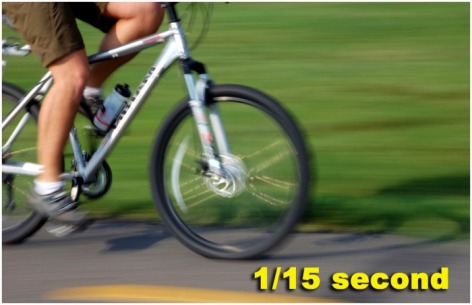 Slow shutter speeds allow for interesting special effects.
Have you ever seen a photo of a racing car, motorcycle, runner, athlete or other fast moving subject, in which that subject appears clear but the background looks like it's racing by in horizontal streaks? That's called "panning with motion". Using a relatively slow shutter speed of 1/15 to 1/60 will provide that effect if the photographer PANS in a pivotal motion at the exact same rate of speed as the moving subject. The key secrets are: pre-focus at the point where the moving subject will cross your path; do not get too close; continue panning even after you've pressed the shutter; and, try the technique at a variety of shutter speeds and several times until you get it right!









---
Does LENGTH OF EXPOSURE equate to AMOUNT OF LIGHT?
Shutter speed not only influences speed clarity, but also affects the amount of light entering your camera.

How can this be?
It's really simple! Consider that when light enters the lens and hits the CCD or CMOS, the amount of time light is allowed to pass through will have a CUMULATIVE effect from an exposure point of view. The aggregate time of light exposure (shutter speed) therefore affects not only how "frozen" a subject will apear, but also how light or dark it will appear.
Low shutter speeds may lead to motion blur or smudge, but they will also produce a brighter image, as light hits the CCD or CMOS for a longer period of time. Conversely, high shutter speeds are useful in freezing fast moving oejcts, but due to the very short exposure, may produce a darker image.
Learn how to balance shutter speeds and f-stops based on your photographic needs, to produce proper exposures in
Lesson 3 - DSLR Technique and Exposure Control
.
Still having trouble understanding how longer shutter speeds produce brighter images? Think of it this way; if a fair-skinned person goes out into the mid-day summer sun without protection for a mere 15 minutes, it is unlikely that they will suffer any degree of sun burn. However, if that same person is outside, unprotected, on that same day for 4 hours, everyone will see the result (and the person will certainly feel the result). Therefore, the LENGTH OF TIME light is exposed to anything will have a cumulative effect.



FreePhotoCourse.com is your home for top-shelf photography lessons, digital camera tips, step-by-step how-to's, free digital backgrounds and the hottest photo equipment.

CLICK
HERE
for Camera Tutorial, Part 5
(Aperture and F-Stops)








© FreePhotoCourse.com.
All rights reserved. Reproduction, storage, copying, publishing, manipulation, digitizing or selling of any of the text or photos on this website is strictly prohibited. Under no circumstances shall any part of the content on this website be plagiarized or referenced as the work of an author or photographer. Re-selling of any of the content on this site is strictly prohibited. The lessons on this website were provided free of charge for individual home users; if you paid for any of this you have been cheated. Please report any misuse, sale or plagiarism of this material
here
OR E-MAIL US AT:
CONTACT@FREEPHOTOCOURSE.COM