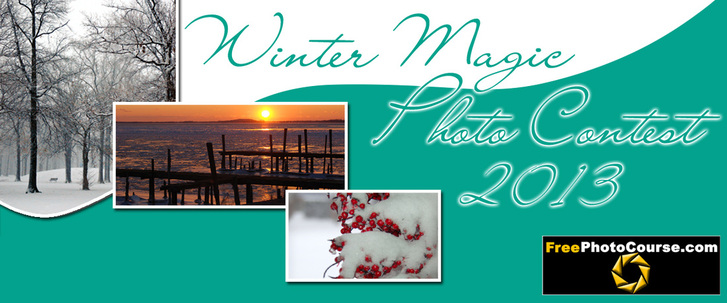 CONTEST IS NOW CLOSED. PLEASE DO NOT SEND NEW SUBMISSIONS.


WE WILL ANNOUNCE THE FIRST AND SECOND PLACE WINNERS BEFORE THE END OF MARCH 2013.



IN THE MEANTIME, ENJOY LOOKING AT THE BEST PHOTOS RECEIVED IN THE CONTEST GALLERY.
Click the picture below to get to the gallery of contest entries that have made it through the first cut:









Give us your best winter shot and you could win!

First Place Prize is an "Explorer" Sling Camera Bag from National Geographic* and a 16 GB Class 10 SD Camera Memory Card (prize value up to $100). Second Place Prize is a 16 GB Class 10 SD Camera Memory Card (prize value up to $50).




No Entry Fee. Contest opened January 1, 2013 and closes February 28, 2013. Submissions after contest close not accepted.

SUBMIT YOUR PICTURE ELECTRONICALLY using the form at the bottom of this page.





First Place Prize

National Geographic "Explorer" Sling Camera Bag

(Inset picture shows side opening with adjustable padded sections for

DSLR and up to three lenses.

)

First and Second Place Prize

A 16 GB, Class 10 SDHC

Photo Memory Card


National Geographic and SanDisk are not sponsors of this contest,
nor are they in any way affiliated with FreePhotoCourse.com;
the prizes are products chosen for this contest and do not reflect any endorsement.





We will be posting the best images received every few weeks during the contest.
The First and Second Place Winners will be revealed and their pictures will be posted in March.
CONTEST OVERVIEW
Suitable Themes:
Images that depict and celebrate the serenity, beauty, majesty, magic, playfulness, purity or stillness of the winter season.
Acceptable Genres:
Landscape, Still Life, Abstract, Nature, Environmental, Wildlife, Cityscape, Street/Urban, Macro or Night photography.
Submissions must be family-friendly.
Eligibility:
Photographers at any level - from beginner to pro - may participate; must be 18 years or older at time of submission;


Must be a legal resident of continental US or Canada (excluding residents of Quebec); contest is void in the Province of Quebec and any other jurisdiction where prohibited by law;


Any image submitted must be the contest participant's own original work and the submitter must own all the rights to the photo, including copyright;


In some cases, more than one photographer over the age of 18 may reside at the same residence. In order to allow different photographers within the same family or residence to submit, we will allow a submission from up to three different contestants living at the same address;


Employees of FreePhotoCourse.com, contest judges and their immediate family or persons living at the same residence are not eligible to enter this contest.
Not Accepted:
Please avoid pictures of people, where only a single person or a few people represent the main feature of the image. These types of people pictures will not be eligible for a prize.
(Street or urban photo submissions that are taken in public places and which may depict people incidentally are acceptable.)
Product or commercial images are not eligible.
Images submitted by anyone other than the original photographer are not acceptable.
Images that have large watermarks which obscure detail or interfere with the meaning of the photographic message may not be considered.
Images that are patently manipulated or overly processed using online photo adjustment sites or other photo editing software will not be considered. (Minor cropping and basic adjustments may be acceptable.)

Images may not have been taken prior to 2012.
Images may not have been previously selected for an award in another published photo contest.
Any image that has been offered previously or currently for sale with a stock photo agency is not eligible.

Criteria and Procedure for Awarding Prizes:
Photo submissions will be evaluated by FreePhotoCourse.com's own Submissions Review Team. Criteria include technical accuracy (ie. focus and exposure), composition, suitability of content to theme, and other artistic and interest-based considerations. Judges' decisions are final. Prior to March 15, 2013, image submissions will be short-listed; some of these preselected images may appear on this website, updated periodically, along with the names of the photographers. Images not chosen to be in the short list will no longer be considered for a prize. The first and second place winners will be contacted by email or telephone prior to the end of March, 2013. Where required by law, a winning contestant may be required to answer a mathematical skill-testing question prior to receiving the prize. Prizes will be mailed via ground delivery at the expense of FreePhotoCourse.com. The prize shall be accepted as is and may not be exchanged for an amount of money, nor sold nor transferred. No requests for prize substitution will be considered. If the prize cannot be awarded as described, FreePhotoCourse.com reserves the right to substitute a prize or prize component with another of comparable value.



How to Submit:

1. Upload one image electronically as a jpeg (.jpg) attachment to your submission details. Limit ONE image per photo contestant.

2. You must use our online submission system. (USE ELECTRONIC ENTRY FORM AT BOTTOM OF THIS PAGE)

3. Submissions may only be sent electronically. No submission shall be considered after 4:00 p.m. (EST) on February 28, 2013.

4. Image details: between 1-5 MB (MegaBytes) (nothing smaller; nothing larger)

5. Must include the following information: (a) photographer's full name, address, age at time of submission and phone number – address must be the valid address where a prize will be sent if the image is selected for first or second place; (b) identification of the specific scene, landmark and/or object depicted in the photo; (c) location where image was captured; (d) two to three sentences explaining why you think this image is award-worthy and any personal reflection about what motivated you to take the shot.




Conditions of Contest:
By submitting a photo to this Contest, you grant certain rights to FreePhotoCourse.com with regard to non-exclusive license to use your photo. This includes publishing your photo along with your name credit, publishing your submitted comments along with editorial reflection on the image, using the
photo on the web for promotion of our contest(s), for editorial purposes and potentially using the photo in future web or print exhibits. Of course, you retain the copyright to your photo and can continue to use it in any way in the future, with the one exception of granting
exclusive
rights to another user. We are accepting ONE photo submission per Contest participant. Read the full
Contest conditions and rules
(the legal stuff) for more details.
PLEASE BE PATIENT AFTER HITTING THE 'SUBMIT' BUTTON!
Depending on your internet connection speed it could take up to five minutes to upload your picture.
DO NOT NAVIGATE AWAY FROM THIS PAGE UNTIL IT IS DONE. Thank you!

Browse, learn, purchase and explore with confidence.
Certified virus-free, malware-free, spyware-free, scam-free and spam-free.