Photography Tip #7:
Where's the Camera in Relation to Your Subject's Eyes?



Ever notice how some people instinctively crouch down to a youngster's level in order to talk with them? Doing so enhances the depth of interaction and allows the "vertically-challenged" child to feel more involved and to be a more active part of the conversation. The practice of getting down to a child's level also has the added benefit of getting the most realistic and heartfelt facial expressions.


You can derive the same benefit of increased depth of expression in your photography with children or anyone who is shorter than yourself. As well, the visual perspective is entirely different. Try it for yourself and see how different the expressions and perspective is by shooting both while standing and by getting at your subject's level. Don't tell them what you're doing and shoot from a higher perspective first. You will be astounded at the improvement.


This technique is not limited to children or those who are shorter than yourself. Consider sitting to shoot a photo of a subject who is also seated. If your subject is taller than yourself, have them take a seat. Get on the grass if your subject is on the grass. You get the picture.










Generally speaking, unless there is a compelling reason to shoot at a low or high angle when photographing a human subject, try to get to eye level for more authenticity.

The best photographers need to be physically nimble in order to get down on a knee, lie on their bellies or scamper up something in order to get where they need to be!

The image of the child shown below is quite artistic and has an eerie feel to it. The child appears inquisitive, but because of the angle, could also be interpreted as feeling frightened and wary. Which is true? Is the expression authentic?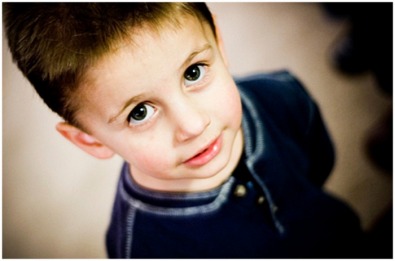 In the image above, notice how the child's face begins to distort. It is certainly an interesting shot, but is the mood or expression that's created by the angle what you're going for? We're not suggesting that you don't experiment with interesting angles and perspectives - in fact, that's what the next quick tip suggests! However, what we're recommending here is to be a more physically engaged photographer when it comes to shooting action or people at the level that best reflects the overall mood or personality of the subject at the time.




Images composed with significant angles between lens and subject can lead to the "eye candy" effect as discussed in the next tip. However, you also need to be aware of the fact that when we're dealing with the human subject, there's an added element of which you need to be aware! Videographers are well versed in the language of what they call "video conventions". It's not about getting footage at a convention. Rather, they understand that the position of the camera lens in relation to the subject can have a profound effect on the message that is being CREATED.

That's right; the lens helps to create a world that has both an independent and complimentary effect beyond that of content and acting. Photographers create a perceived reality in the same way. HIGH ANGLES and LOW ANGLES refer to where the camera lens is in relation to the subject and they have the following effects:

High Angles
pivot downward and tend to make the subject look weak,
vulnerable, depressed, hesitant, insecure, worried and/or
burdened.


Low Angles
pivot upward and tend to make the subject look strong,
powerful, in command, confident, happy, elated,
influential and/or credible.


If you wish to create these moods in your subject, then go ahead and shoot from an angle. Otherwise, get to the eye-level to encourage a natural response from your subject and an honest representation from the lens! This works particularly well with children, but everybody responds better when the person with whom they are interacting gets to their level. Take a look at the examples below.






Exception to the Rule...
It is also worthwhile noting that when a human subject is doing something that becomes an integral part of the context of the photo, the thing that they're doing may dictate framing. As much as eye level can be a positive technique, there are instances in which an ants-eye-view or a birds-eye-view becomes necessary for image to best portay a real sense of what is happening.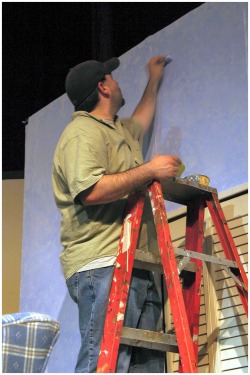 Sometimes you need to shoot from a low angle in order to replicate the sense of height as in this example.
FreePhotoCourse.com is your home for top-shelf photography lessons, digital camera tips, step-by-step camera how-to's, a cool photography forum, a contributor's gallery, royalty-free pictures and wallpapers, pro photographer interviews and much more!

© FreePhotoCourse.com.
All rights reserved. Reproduction, storage, copying, publishing, manipulation, digitizing or selling of any of the text or photos on this website is strictly prohibited. Under no circumstances shall any part of the content on this website be plagiarized or referenced as the work of an author or photographer. Re-selling of any of the content on this site is strictly prohibited. The lessons on this website were provided free of charge for individual home users; if you paid for any of this you have been cheated. Please report any misuse, sale or plagiarism of this material here OR E-MAIL US AT: CONTACT@FREEPHOTOCOURSE.COM