In Part 2 of this article, you will learn some specific photographers' secrets to use rain, puddles, reflections and light to your advantage. Click HERE to read Part 1.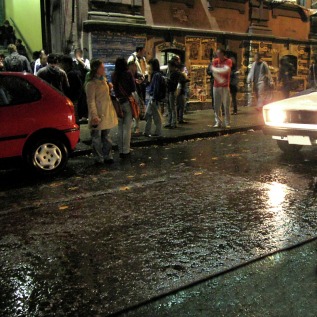 Night time urban scenes after or during rain
can be very interesting.
photo credit: Alvi Mann
(

Here are some really effective, yet, easy photography tips you can use to compose your own fantastic artistic and abstract photographs with water and/or reflections.


1) Safety Comes First!
First of all, personal, camera and gear safety is a must!

Don't photograph anything outside during an electrical storm or in high winds - that's just asking for trouble; as well, you're not as likely to be watching-out for things that the wind could throw at you because your eyes are stuck to a viewfinder.

As far as your camera and gear is concerned, you obviously don't want to put your camera or lenses in jeopardy by allowing water into your lens or through a tiny gap leading inside the body of your camera.

If it's raining while you are photographing, use either a manufactured waterproof enclosure or be innovative and make a homemade one, snap the shutter from inside your vehicle or simply use an umbrella, awning or overhang.
---
(2) Get Out on a Rainy Day or Night!
An advantage of shooting in the rain is that puddles and bodies of water will develop ripples and concentric circles that can help to distort reflections in awesome ways.

Everything changes in the rain!

The special way that light is absorbed into non-reflective surfaces, the way people act, the intensity of scenery - it call all be something quite awesome.
Made of sugar and afraid you'll melt?

All kidding aside, your other option is to wait for the rain to stop.

This, too, can be very effective; particularly when you want a still reflection.

As well, rainfall can has a tendency to scrub haze and pollution from the atmosphere, making the air clean an clear.
Daytime rain photography can do special things with trees, buildings, people and other day-lit things that are reflected in puddles.

Likewise, night-time rain photography can look eerie, mystical or sultry, as wet pavement and puddles reflect shards of colored light in an otherwise blackened scene.


(3) Spring Rain is Fresh and Inviting.
The unique color of newly opened spring leaves, plump buds and other flora can be enhanced by droplets of rain. The lack of heavy overgrowth and canopy allows more light to penetrate the thin, translucent spring leaves, accentuating dew and raindrops.
(4) Autumn Rain Leads to Colorful Reflections.

Photographing during or after an autumn rainfall can produce equally compelling images, but with an entirely different rainbow of colors. Veteran photographers love to explore natural settings after an autumn rain. Colorful wet leaves on a forest bed, puddles reflecting the varied hues of turning leaves and the starkness of tree limbs that have dumped their golden leaves around the tree's trunk all look amazing after an October of November rainfall! The earthiness of an autumn rainfall is easily captured in a photograph.
(5) Take Advantage of Distorted Water Reflections
Seek out the interestingly distorted reflections that outdoor puddles and other bodies of water create. Water reflections can offer concentric rings from a raindrop, the classic zig-zag distortion of originally straight lines or a gentle yet unpredictable shape spawned from a windswept moment.

(5) Show What People Do in the Rain

While it's exciting to create high quality abstract photo art that's suitable for framing and hanging on a wall, after a while, even the most imaginative photographer can find that, eventually, streets, rocks, leaves, buildings and other inanimate objects may no longer have the drawing power or ability to challenge and inspire.

Think about including another even more magical element in your rain and reflection photography - the human subject! Whether it be a loving embrace between a couple, a child's whimsical twirl in the rain or a gloomy day to match someone's gloomy expression, photographing people in the rain can yield very interesting results that speak of a certain freedom outside of the all too common parade of everyday "dry world" pictures.

It's true that people act differently - perhaps more honestly - during the rain!

Look for ways to join a subject's real-life body to their distorted reflection by joining the two in a puddle. Show people on busy street corners.

Photograph people from behind, either silhouetted or not, while holding umbrellas. Capture a child playing in a puddle; try photographing the child from behind, showing his or her face in the reflection.

(6) Can't Wait for the Rain? Bring a Spray Bottle of Water!

When doing macro, close-up nature or small object outdoor work, bring along a small spray bottle filled with water. This is an old photographer's secret and it is used as effectively today as it has been for decades. Just try not to overdo it!

 

(7) Look for Puddles in Unusual Places

After a heavy rainfall, seek out puddles in alleys, near playground equipment, adjacent to industrial areas and along abandoned train tracks – anywhere you wouldn't normally look during your average day. Puddles in these places and their reflections may reveal unusual scenery or usual scenery in unusual and interesting ways.

 
Look through your lens and watch as rain
transforms the world around you
into something quite extraordinary!